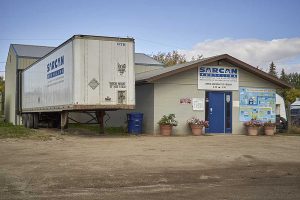 What goes in the "Blue Bin" – Print (pdf)
Please show your commitment to recycling by placing only the listed items in your blue cart. Loraas trucks employ a sophisticated camera system to monitor your cart contents. Carts containing unacceptable items will be left curbside or rejected from the collection program. Any costs associated with these unacceptable items will be passed on to the offending home owner. We appreciate your cooperation!
BEVERAGE CONTAINERS: (please rinse and remove lids)
(These can also be returned to Sarcan where you will be paid for them!)
Aluminum pop and beer cans
Plastic pop/water bottles, plastic milk jugs
Milk cartons, juice boxes, and all Tetra-pak containers
Wine, spirit and beer bottles
METAL (please rinse)
Aluminum cans, trays, pie plates, and foil
Household tin cans (food, beverage, soup, etc)
Not Accepted: wire hangers, scrap metals, banding, propane tanks, helium tanks, gas cans, auto parts, batteries, hazardous chemical containers.
PLASTIC: (please rinse and remove lids)
All household plastics labeled with any #1 – #7 in the triangle symbol:

Some examples include: pop/water bottles; shampoo bottles, liquid detergent jugs, vinegar bottles, yogurt and margarine containers, windshield washer fluid jugs; spray bottles, etc.
Plastic bags: grocery, retail, dry cleaning, bread bags, etc. Please place all plastic bags inside another bag and tie shut.
Not Accepted: Styrofoam, plastic toys, Tupperware, plastic pipe, outdoor lawn furniture, used oil containers, containers without the recycle symbol, or bio-hazardous material.
PAPER FIBER MATERIALS: (paper, cardboard, paperboard)
Newspapers, flyers, junk mail, and envelopes (with our without windows)
Letter quality paper, copier paper, computer printouts (NCR paper (no carbon required)
Shredded paper (please place in clear plastic bag and tie shut)
Non metallic gift wrap and packing paper
Magazines, catalogues, paperback books, telephone books
Hardcover books (cover and spine must be removed)
Paper egg cartons
Brown paper bags
Tissue and paper towel cores
Flattened cardboard and paperboard boxes.
Not Accepted: any fiber material that is waxes or plasticized; any material that is food contaminated (ie greasy pizza box with cheese stuck on it); soiled tissues, napkins and paper towels; confetti paper, heavily dyed or colored construction paper.
Winter Landfill Hours
October 1st – March 31

Tuesdays – Not Open
Wednesdays and Saturdays -10:00 –

12:00 and 1:00

to

4:00
Summer Landfill Hours
The Landfill will go to summer hours effective April 1st to September 30th.
Tuesdays – 3:00 – 8:00 pm
Wednesdays – 10:00 am – 12:00 noon, and 1:00 – 4:00 pm
Saturdays – 10:00 am – 12:00 noon,and 1:00 – 4:00 pm
Flatten cardboard boxes: Please remember to flatten cardboard boxes before putting them into the recycle bins. By flattening the cardboard we can put twice as much material into the recycle bins. If we don't flatten the boxes it defeats the purpose of recycling because the Loraas Disposal truck has to come out when the bin is only half full to empty it!
We do not accept Oil, Oil Filters or Plastic Oil Jugs/Oil Pails.
Transfer Station
Please contact the Town Office for commercial rates.
Recyclable Items (Print)
In addition to what you can put in your "Blue Bin" – Below is a list of ways to eliminate / recycle your waste without overburdening the landfill:
Appliances Appliances in working order and newer than 15 years can be donated to Village Green Furniture and Appliances. Non-working appliances can be taken to our Transfer Station for a fee.
Beverage Containers Refunds are available for beverage containers such as pop bottles and cans at Sarcan on 2nd Ave W.
CFL Light Bulbs CFL light bulbs can be dropped off at RONA or Home Depot stores.
Clothing & Household Items Clothing and household items can be donated to charity-based organizations such as those listed under furniture.
Composting Composting is a great way to reduce your garbage each week and beautify your yard. There are great web sites and books with directions for creating your own heap. Just remember not to add anything such as meat scraps that will cause a smell or attract rodents.
Electronics drop off your old electronics without charge to SARCAN
Furniture Furniture can be donated to worthwhile charities. Canadian Diabetes Association, Community Living, Value Village, Salvation Army, Village Green Furniture and Appliances, to name a few. Call ahead as some of these associations may offer free pick up.
Outdated Prescriptions old prescriptions should be returned to the pharmacy rather than dumping them down the drain or into the garbage. Returning any unused medications ensures that drugs such as antibiotics do not leach into our groundwater and rivers.
Printer Cartridges the Canadian Diabetes Association accepts used inkjet and laser cartridges. Call 1-800-226-8464 ext 7212 for drop off locations. Several businesses also recycle used printer cartridges, check the phone book for listings.
Rechargeable Ni-Cd Batteries. The Call2Recycle website can help you recycle your portage rechargeable batteries including Nickel Cadmium (Ni-Cd); Nickle Metals Hydride (Ni-MH); Lithium Ion (Li-ion) and Small Sealed Lead (Pb) batteries weighing less than 2 lbs. These batteries are commonly found in cordless power tools, cellular and cordless phones, laptop computers, camcorders, digital camera, and remote control toys.
Used Car Oil & Oil Filters there is a recycling station located at our Transfer Station
Used Lumber and Building Supplies Habitat for Humanity's Habitat Restore is located at 122 Ave D South, in Saskatoon. They accept (but not limited to) doors, windows, all types of lumber, plumbing fixtures, cabinets, hardware, etc. Their phone number in Saskatoon is 306-343-7763.
Vehicles The Kidney Car Program offers tax receipts for working and non-working vehicles (cars, trucks, motorcycles, boats, campers, snowmobiles, etc.) Proceeds benefit the Kidney Foundation of Canada's programs and services.