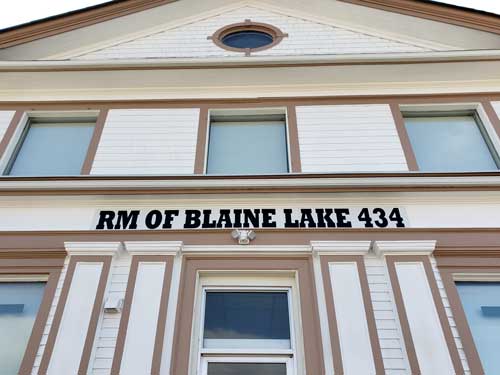 Acting Administrator: Jennifer Gutknecht

Office Hours
Mon-Thurs 9:00 am – 4:00 pm
(Closed Fridays and for lunch from 12:00 – 1:00pm)
Contact Info
Phone - 306-497-2282
Fax - 306-497-2423 (New)
R.M. Email Address rm434@sasktel.net
Mailing Address
Box 38, Blaine Lake, Sask. S0J 0J0
RM of Blaine Lake
2012 PDF Map
Our 2019 RM map will be going to the printer next week – we expect our new maps in-office very soon!
---
We are working at improving our webpage;
if you cannot find something you require, please email or call the office.
Thank you for your patience!

Spring 2019 RM of Blaine Lake Newsletter
Summer 2019 Newsletter and Tax Notice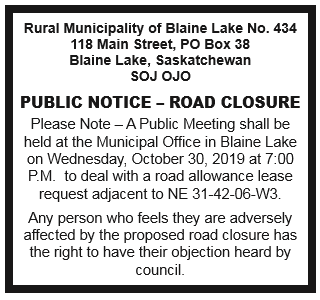 ---
Please note that our regular meeting for November 2019
has been changed to Thursday, November 7th
@ Council Chambers - 118 Main Street.
---
The RM of Blaine Lake #434 Office will be closed during the week of November 11-15 for training & development purposes.
We apologize for any inconveniences this may cause.
During this time, please email rm434@sasktel.net or call 497-2282 and leave a detailed message, indicating your question, comment, suggestion or concern, or contact your Division Councillor if you require immediate (emergency) assistance during these dates.
---

If you have already signed up, simply log in and make the payment.
You will need your customer number, as found on your tax notice, for your "account number".
Telpay 1-800-665-0302
Our Biller Code: 008945